Do like to Sew? Join us
we meet the 3rd
wednesday of each month
September - May
6:30 pm: meet and greet.
7:00 pm: meeting.
I
f you are a sewing
enthusiast, or would like to
become one in Northern
Colorado, you have come to
the right place!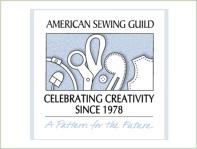 Attend a meeting before joining!
join by filling out an application on-line through the national American
Sewing Guild web-site, or by filling out an application and mailing it.
At the ASG website, you will see what the membership provides you:
discounts, on-line classes, and connections to other sewing enthusiasts!


Our Next Meeting:


Made with MAGIX









Welcome

We meet at the Family Center at Allnut Funeral home 650 W. Drake in
Fort Collins.

Don't forget to bring your show and tell!
Bring a sewing friend! Wear a name tag you made!
September 21st Laurel Kubin
Entering and winning Larimer County Sewing Competitions
Laurel is the director of the Colorado State University Extension
for Larimer county.